Kailee's illustrations were first published when she was merely 2-years old.   She has been illustrating books before she could walk or speak well.
Together, she and her mother, author/illustrator  Elizabeth A. Hoadley, read and discuss the lyrical books that Elizabeth writes for her.
These conversations have become more advanced as the years have passed and have blossomed into visual dialogues of learning and communication between Elizabeth, Kailee, and children of all ages from all over the world.
At the beginning, when Kailee was 2-years old, Elizabeth would say something to the effect of  "Can you draw someone with a bo-bo tummy?" or "Draw a little girl who feels very small and sad next to her friends,"  or "Can you draw someone very happy to be out in the park with her mommy?"
Elizabeth would then step back and let Kailee do whatever it was that came to her imagination and found her drawings to be so riveting that they were published in Sweet Snuggles when Kailee was still 2-years old.
Five years and 6 books later, their discussions and books have reached deeper levels of understanding and higher levels of artistic ability.  When their opinions vary, Elizabeth understands the necessity of artistic freedom and encourages Kailee to follow her own interpretation of a verse.
When Kailee was 3 she published Balloon Wishes, which was followed by Roses & Rainbows at 4, The Thanksgiving Coat at 5, Missy Kabissi and the Palm Beach Treasure Hunt and I Know I Can at 6, and has recently released Vivache; she is now 7.
Kailee is currently hard at "play" on "The Spectacles of Deauville ~ Forte" which will be published in March of 2013.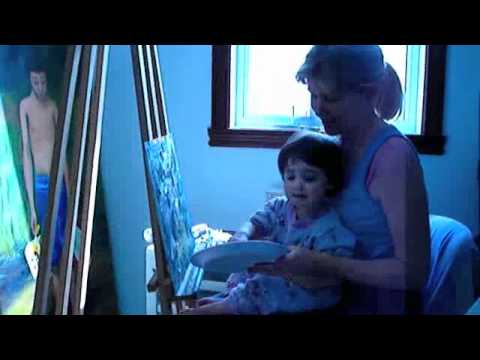 1-Year Old Kailee Discovers Her Love of Art